Our Ministries
Prayer Banners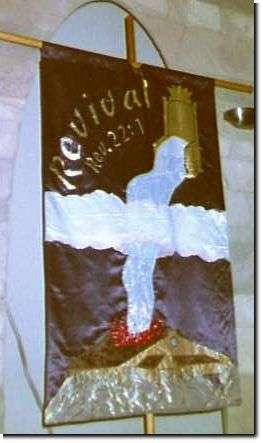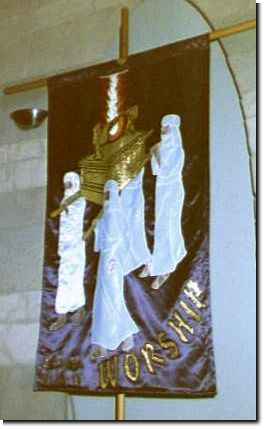 The above pictures are just 2 out of 15 designs for prayer banners that God through the Holy Spirit put into me and told me, "We need this again." What are prayer banners? They are an inspiration, a sign of victory, they are strategic warfare. The enemy is identified, a specific area is targeted for attack, a plan or strategy is decided on and is mapped out on the face of a standard or banner. Nothing upsets the enemy more than seeing his worst nightmare displayed before his face! Banners communicate a word of defeat to the enemy and a word of victory to the believer! In the past I had seen many banners in churches and when I had seen some I had felt impressed to pray or worship God. I didn't understand it then but I have since learned that it was the Holy Spirit prompting me through an anointing on the banner. I had no intention of making these banners I only wanted to donate some money to the project, but, when I was asked to head the project, without thinking, I said, "Yes". God is so awesome in how He works. He chose me and confirmed that he had chosen me by giving me Isaiah 49 : 1 - 7. I had 4 - 6 women working with me for 28 weeks 1 - 2 days per week to complete the banners (from June 1997 to just before Christmas in December '97). The Holy Spirit guided everything I did with the banners; the design, fabric selection, crafting of the banners and teaching others to do the work as well. Through this experience I have gained new skills as God had said I would when He told me that working with the banners was my training ground for my future areas of ministry. I don't want anyone to get the wrong impression, everything did not go smoothly but everything that did happen and the attacks on us, all taught us and we learned from every experience. I thank God that He gave me such an awesome responsibility with the banners. May the banners at Rochester 1st Assembly of God, Rochester, MI, USA be used to the Glory of God and to further His kingdom.
If you want to learn more about prayer banners or just would like to talk, e-mail me.




A friend of mine had taken some photos of the banners to make their own scrap book and there were some anomalies in the pictures. The anomalies were only present in the pictures they had taken of the two banners I have at the top of this page. On the worship photo, there are like lightning streaks going up from the top of the banner. The Revival banner has "lightning" streaks appearing to flow out of the river coming from the throne and flowing out of the church below. What an awesome sight! Our church has had a few of these type of things happen before in photos taken of various people and things and these photos have been taken by different people in our church. We've had photos where it appears as if a pillar of fire is beside our worship leader. Another that I've seen was a photo of someone in our congregation but this photo was taken at someone's home by someone who doesn't even go to our church. It appeared as if a rainbow was originating from her head. There are many awesome things that God is doing in our church and I mean these are things that are tangible. God is AWESOME!


Graphics by:


Home | Begin | Miracle | Ministry | Doctrine | Links | Webrings
Books | Music | Awards | E-mail |

Scottcrew's other websites:
Scottcrew's Domain | Scottcrew's Website Design Service | Scottcrew's WebHelp
Scottcrew's Family of Businesses | Scottcrew's Graphics

Post your URL on our Free For All Links Page.

Website Designed by Scottcrew Web Design. © Copyright 1998-Present All Rights Reserved.