God's Miracle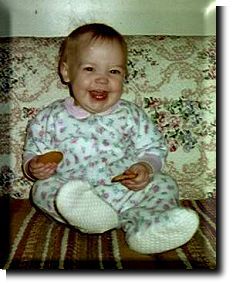 Pictured to the left is my daughter, whom I would say is miracle. She is my fourth child, and when I got pregnant in '95 with her I got sick and I am not talking morning sickness. I got full blown pneumonia. I went from 140 lbs. to 126 lbs. in 1 week and continued to dip down to 124 lbs.over the next month. At this point I was only 17 weeks along. I had doctors telling me I had a hyperthyroid and my thyroid needed to be stopped.(The only methods of doing this would leave the baby dead or maimed, big choice, right?) My nutrionalist who also happens to be a born-again Christian, kept telling me not to let them do it. She came to my home, prayed with me and gave me her expertise in care. She also gave me tapes of scripture songs for encouragement & healing. I was so malnourished, pale and gaunt. I looked as if death could come at any time. We called our pastor to our home to pray for me(James 5:14). When he came in he said that God's prescence was stong in the house. My mom called her pastor to come as well and he said the same thing as my pastor did. I didn't feel it, but I believed them and I held firm to my faith that God would see me through all of this. I was "out of it" for 3 months unable to walk 10 feet without being out of breath and weak let alone go anywhere. All this time, my husband faithfully helped me, staying up all hours of the night and going to work the next morning.&nbsp My mom who stayed with me by day and others from my church who provided evening meals also helped.&nbsp God did carry me and in February 1996 I delivered my beautiful baby girl(which I prayed it would be a girl and God even confirmed that to me before she was born, but not with any genetic testing.) 8.5 lbs. , 22 inches long and not a thing wrong with her. We discovered later that she had grown an extra layer around the umbilical cord and placenta, this protected her from the dehydration that I had experienced.
This experience, the total reliance on God prepared me for the outpouring of His Holy Spirit for revival in our church. He has taken me to places I never dreamed I could be.
The Revival sweeping all across the world is real. God's love, mercy, justice, & power are real. If you want to know how you can experience God in your life and to get to know Him, Click Here.

Home | Begin | Miracle | Ministry | Doctrine | Links | Webrings
Books | Music | Awards | E-mail |

Scottcrew's other websites:
Scottcrew's Domain | Scottcrew's Website Design Service | Scottcrew's WebHelp
Scottcrew's Family of Businesses | Scottcrew's Graphics

Post your URL on our Free For All Links Page.

Website Designed by Scottcrew Web Design. © Copyright 1998-Present All Rights Reserved.